ESCA Technology Products - A genuinely innovative product range that will help you catch more fish.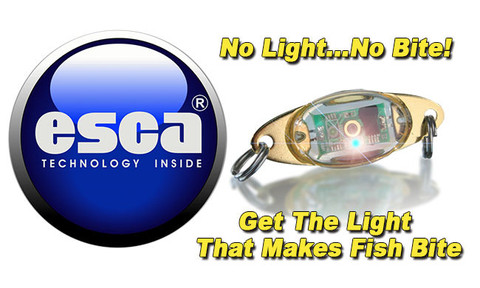 ESCA lights are an essential addition to even the best-stocked tackle box. Inspired by nature's living lights, Esca
®
is expertly integrated into small units that are used as add-ons to any lures or tackle. ESCA lights use no batteries, these small accessories generate their own energy in salt water with approximately 100 hours use. Attach ESCA lights to your favorite lure or terminal tackle, ESCA lights will help you catch more fish.
---
Our Mission
Esca Global Corporation AS aims to be the leading company in the development, production and distribution of technology using simulated biological light waves. Our products and our technology will be developed both for hobby fishermen, sports fishermen and for the commercial fishing market.
Esca Global Corporation aims to supply the market with technological solutions which will help achieve more cost-effective production of fish in fish farms, increase catches for traditional commercial fisheries, and which will help harvest zooplankton as a raw ingredient for the food industry, dietary products, medicines and the fish feed industry. At the same time our technology will help to improve the ecological balance of the marine environment.
Our customers are people who go fishing as a hobby or who are sports or commercial fishermen, and we develop our products solely with them in mind.
Our aim is to give people More Fish and More Fun - Fish ESCA!
---
---
Contact Information
Email is the best means to contact us, we check regularly and will respond in a timely manner. For your convenience, you may also use our Feedback page to contact us regarding becoming an ESCA retailer or with product questions and suggestions.
We also like hearing from people using ESCA products to enhance their fishing success. Please do send back your fishing tales and pictures for publication here and through social media. Share your successes and helpful tips so others may benefit. Submit images via email please, along with a brief description of where you were fishing, conditions, species targeted and caught. Please send to Fishing Feedback (click hyperlink)
Telephone

714-841-9429

Postal address

16442 Gothard St. Unit B, Huntington Beach, CA 92647

Electronic mail

Customer Support: ESCA Product Information & Assistance

Retailer Sales: Exclusive USA Supplier - ToroTamer, LLC
Want to become an ESCA dealer? Please contact ToroTamer,LLC, our exclusive USA stocking agent. Please click on the hyperlink above to be taken to ToroTamer's website, or send an email to: Dealer Enquiry